I went camping this past weekend- way up in Maine and no one else was there- no one. It felt so peaceful, laying in the dark thinking about nothing- it was like I had forgotten civilization existed. Owls hooted across the river and bugs buzzed in the grass, and there was no hustle and bustle of life. Absolutely nothing had to be done, nature went about it's course on it's own leisurely pace and I just wanted to stay there.

I suppose if everyone gets to write about their experiences abroad I want to write about what it's like being at home. the camping trip was incredible and not because it was exciting but because it was peaceful. Sitting and watching a fire die, or waking up to dew and fog in the early morning. It makes me want to live a peaceful slow paced life.

I love nature, and coming back to the chaotic-ness of school where everyone is crazed and in a rush was like a culture shock of my own.

I guess that's all for me.
I really am having a great start to the year, but it just doesn't feel as meaningful. I still have friends, I still do lunch, and talk to people I see, but there's something incredibly different about Holy cross for me this year. I don't know it it's because I am commuting or so many of my closest friends are gone, or if I'm a tiny bit jealous.
I haven't quite caught up with myself yet, as far as writing about my adventures goes. Pretty much have just written about first day, lol.
Anyways, I'm not going to spam this too much. I posted at my journal (you can read it here:
http://wackiejackie916.livejournal.com/538.html
). It's listed as friends only, but I believe I've friended all of you, so if you care to read, you can :D
Hope everyone else is doing very well!
Current Mood:

happy


I DEMAND POSTS. I am sitting here at HC and everyone else is not sitting here at HC and I demand...uh... to know where they ARE sitting, and all about it.

Seriously guys...I'm lonely. Humor the weird goth kid huh?
So I noticed a bunch of people have joined.
Current Mood:

lonely


School seems weird this year- like all the sudden someone let all these strangers on campus, and took away all the students who were here last year.

But at least the English department is the same, photocopying a bazillion pages every hour. Ah familiarity.
What am I going to do at 4 o'clock with no Jessa to visit?!

Jess I hope you are having a great time.
Chris and Josh, hope the flight went well and that you do not kill eachother.
I moved in yesterday. I was so excited to be back. I went to staples and to my surprise, who did I see?, the one and only Amy Lazarus!!! So despite my living in Mulledy again, the year was starting out well. When I got back to campus I met with Amy. She came to my room and kept me company while I finished organizing. After that we went to visit Jen. We were all happy despite our loss of friends to other countries. We remembered them lovingly and hoped time would fly fast. Soon enough Amy left Jen and I alone. It was soo nice to be able to see and talk to them again. Oh, I forgot to mention I felt really special b/c Amy gave me a hug when I saw her in Staples. lol So while walking around the campus we decided we were going to document our times here without you all through pictures to show you all the new changes at HC and ultimately wish you were here. Yesterday we also found out that Skype does not work here at HC, so we will have to keep in contact through facebook and here... or skype at Amy's. lol


But seriously. Have been practicing conversations in Spanish in my head. So guys how far in advance does one have to buy a plane ticket? Though I think I have to wait until i find out if i can stay with Jessa or I'll have to find a hostel or something.

But anyways, since I'm going to Spain we should all meet up in Spain over xmas break =D

k?

Oh and I got a mic for skype and was all excited and since I have no one's been on.
Ok, even though I'm not going abroad, I'm becoming increasingly determined to visit people abroad. Starting with Jessica. Today I walked through Worcester's worst ghetto to get to city hall to get my birth certificate and apply for my passport. Crispy (my boyfriend) escorted me, so i would not get shouted at/molested. Anyways, on the way back I even practiced my spanish, yelling help me in spanish as i walked along the street. Probably to many people's confusion. But as I explained to crispy, if I get lost before I meet up with jessa in Spain all I have to do is wail "help me" pitifully until eventually someone does. So I practiced.
9:15 am in MA, 3:15 pm somewhere between Madrid and Pamplona
So I think in order to start this story properly I should go back at least a few days in time, I guess Its one of my favorite things to do today :P. Anyway, I think that I really started to feel the pressure of the trip this past week when I knew that at a certain time the following week I would be in Spain. I think that most people I know would have been thrilled and more than excited to be somewhere other than home, especially after a fairly long summer, but not me, I became really scared/nervous about leaving my family. I don't exactly know why because I know that in high school I could have just got up and left and probably never have looked back (at least not too often anyway), but I guess I've found out that as I get older the more scared and attached I get to things and esp. my family. I remember that while I was at HC I found every justification as to why I should be going abroad, even for leaving my family for sometime. But I really think that this summer served its purpose and I learned, or rather, relearned everything about my self and position that I wanted to learn when I went abroad this year.
Anyway, I started packing Wednesday, I put it pretty much until the last minute and with each passing moment I could see the sadness in my Mother's eyes becoming more intensified and mine grew comparatively with hers and the rest of my family. I really just wanted to suspend time and not let a moment pass by. And I don't think we really did, because my family and I had best last week (for ten months) of our lives, we'd all go walk on the beach and play dominoes, things like that, and that made me really happy.
And then yesterday happened, I've never seen an hour go by as fast as the last hour I had with my family at the airport. I honestly wish that they had band aided that because it was sooooo drawn out, every ten minutes my dad was like you better get going, and we were all like there's an hour left!!! Then the time finally came for me to go through the security check point and let me tell you that was nothing less than letting the flood gates open, everyone else looked at us like WTF??? Especially when we had seen two other HC girls just give their families a hug by like they were going to see each other in a few days. So what happened was that they followed me through the left side of the tape line and each time that I got to the side they were at it was another kiss and hug goodbye until the last one where we gave our final hugs and kisses goodbye and I went though… And yes, I was crying, so I directed myself toward my gate and stopped by the bathroom quickly before that… by the time that I got out it was still obvious that I had just cried the other girls looked at me like a freak and I had no other choice but to suck it up…. And of course we all greeted each other with the HC handshake (you can never get out of that habit I guess). Most of them knew each other because they've all take Spanish classes with each other, and I just kind of talk to people every here and there, but it's a little weird, I still don't feel comfortable I guess.
Then there was the flight everyone sat about row 25 and I was in row 46… of course that would happen to me, but it was ok because it wasn't the last seat and I got to sit next to a very nice Indian man who was going back to visit his family for a month after not having seen them 3 years!!! The international flight with Lufthansa was great, they even gave out hot towelets twice, and food with real utensils, and free movies… However, my intention was not to have enjoyed these things, my plan was to knock myself out with Tylenol pm… so I was like ¾ should be good…. Half an hour later… I decided to take the rest of the pill to knock me out…. But nothing! I didn't fall asleep… now I know for future reference I'm going to take two!!! And I still haven't really slept since 8 am Saturday and it is now Sunday 5:39 in MA but like 12 over here!!! And I'm not that sleepy either (oh no)…. Then we got to the Frankfurt Germany where all I could before landing were two things, 1) Josh's Nazi story, 2) that Chris was born somewhere around there… then within the airport I thought about how 20 years earlier my Mommy had been in that very airport! And how great it was that I could be there too. Then I tried to get the sausage or chocolate bread thing… but the German guy said it was too early for sausage and I guess it was 5:30 am there :P (and the trash can had 4 different compartments, Chris wasn't lying about that :P) Anyway, I wanted to get something to eat so that I could eat it in case I didn't get a chance… then there was a 2 hour flight with Spainair which was in no way comparable to Luftansa… which what ended up happening is that 4 girls had already bought their bus tickets for 12 pm, 3 others for a 3 pm bus… so we ordered a shuttle at like 11:15 to take us to the bus station which only cost us 7 Euros each… but then two of the girls where like but we need to exchange our currency so they said they'd be right back and left to change their money. But 10 minutes went by and the two girls still weren't back yet, so we all started to panic because now it was almost 11:30 and they weren't back yet, so I decided that one of us should stay to watch the bags and the rest of us should go across the street to and start putting our luggage in the van. So we did that, and it was very very heavy, luckily at this point we had luggage carts so it wasn't that bad. And I asked the driver if we would have enough time to make it to the bus station (mind you three of us didn't even have bus tickets yet), and he said that probably not if we didn't leave right now, but the two girls weren't back yet! And we were all just sitting in the van waiting for them, each of us rather annoyed that they decided to go when they knew we were in a time crunch and more than anything we were worried that we wouldn't catch the bus. Luckily, all of a sudden the girls got to the van and the driver got us there at like 11:43. Then once we got there we come to find out that the buses are across the street down a set of stairs and a hall. So two girls and me ran downstairs to buy our tickets while two other girls took their bags with them. It took about 5 minutes to get our tickets. So we went bag up stairs and there were two girls and three of them went to take their bags with them. Then two of us stayed above ground waiting for the rest of the luggage, and it seemed like they were all taking an eternity to get back… now we only had like 5 mins to get all our bags to the bus. So I took both of my 50 lb. bags with me and with my small30 lb bag on my back and walked them all the way downstairs and through the hall backwards! Because I couldn't bend my arms back enough to walk forward! Then I threw them into the bus, and the conductor was very annoyed with us, I don't know how many times we've all gotten the "Oh, look at the stupid Americans" look. I don't think anyone else could have pulled that off, it truly was a miracle.
Then the bus ride wasn't bad it was 5 hours long but it didn't seem that bad to me, even though I was the only one that didn't fall asleep on the ride. It reminds me a lot of Mexico, there are only subtle differences that are not familiar, for example, the colors of the houses and buildings are beige and cream colored for the most part, and it seems a lot calmer/deader over here. The countryside is a lot like the one in Mexico, they even had the giant silhouette of the bull! I didn't get to take a picture of it though ☹ and there were fields of sunflowers, which was a beautiful site. The bus ride eventually ended and we got our, at this point it was like 5 in the afternoon over here. And we all got our ginormous bags out of the bus and walked them to the taxis which weren't far but they didn't want to let us take/stuff our bags into their carts. Eventually, the only four girls left waiting were two Puerto Rican girls, a Columbian girl, and me… figures we would be last, I feel like we have all become a group, but I really like them.
The cab wasn't expensive either it was like 5 Euro, which was great! But then we had to get up another set of stairs with all of our bags by ourselves, and then I had to fit my bags into a closet sized elevator. At this point we were all soooo tired and starving because (I hadn't eaten since dinner in the plane ride from the US, which was at like 5 or 6 the previous day), but dinner wasn't until 9 o'clock! So I got into my room, which is really small, but I don't really need anymore space, and since I get my own bathroom, I don't really care because that is great in and of itself. So I started to unpack and my shampoo bottle had leaked everywhere! But since my clothes were in the space bags my clothes didn't get ruined so I just threw everything in the sink and rinsed it off and eventually I took a shower. Then at 7:30 we had a meeting and Katherine and a few of the other girls arrived. Then we had dinner at 9, which to me tasted great, esp. because I was starving.
Then I connected my computer to the internet but it doesn't want to let me use my ichat, which is very saddening. But the internet doesn't respond all the time, which is very unfortunate, or its really slow, but its still better than nothing! And I started up my phone, but now I just need to put money into it. Then a group of us decided to go walking in the city, but it was pretty dead, and after walking some time we found a bar/café thing, where only two people got anything, then we walked back. It was crazy though seeing that it was barely 5:30 pm and I was going to bed because it was like midnight here.
(
I can't believe I'm here!... is this for real?!?!?
Collapse
)
August 24, 2008
Current Location:

Pamplona Spain

Current Mood:

sleepy

Current Music:

Drive - Incubus


And more people need to join! So I can demand post cards. And exotic foriegn...rocks.

*ahem* after all im the one who can send awesome carepachages full of American....stuff.
*flail* everyone's leavingggg!
Lizzie McGuire
movie the other night, which I know is a little young for me buuut it does take place in Rome and so I was hoping to see some awesome Roman vistas and get all excited for the spring. And I found the most
amazing
place: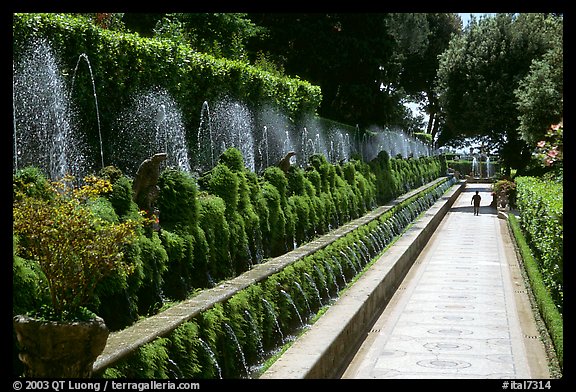 It's the gardens of the Villa D'Este in Tivoli, which is totally accessible from Rome by train. And we are
SO
going. OMG. Admittedly, in the movie they go at sunset and the water is all orange-pinky and fantastic, whereas the gardens actually close an hour before sunset. Boo. But we are
SO
going. At the very least, me and Chris and Josh are. (Yup, that's right you guys, you get no choice. lol)
Ok, so I watched the
Current Location:

My room

Current Mood:

excited

Current Music:

None